Sponsored Link
スポンサーサイト
上記の広告は1ヶ月以上更新のないブログに表示されています。
新しい記事を書く事で広告が消せます。
Yuzu-flavored Two-color Pickled Salad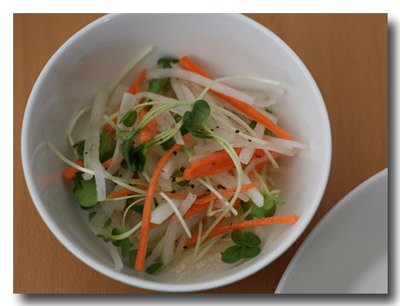 (Yuzu-flavored Two-color Pickled Salad / Image)
Taking up herewith one of salad recipes named "Yuzu-flavored Two-color Pickled Salad".
It will be one of the recipes which will be enjoyable for summer season.
Ingredients:
(Serves 4)
* 600 g 10-cm pieces daikon radish
* 80 g 5-cm pieces carrot
* 3 tbsp yuzu juice
* peel of 1/2 yuzu
* 3/4 cup / 150 ml vinegar
* 5 tbsp sugar
* 1 tsp salt
Method:
1. Peel the radish and the carrot and cut into juliennes. Put them in a bowl.
2. Sprinkle 1 teaspoon salt over the radish and carrot and mix well. Let the vegetables sit for 5 minutes.
3. Once they have softened, squeeze out the excess water.
4. Combine the sugar, vinegar, a pinch of salt and Yuzu juice in a bowl. Add the radish, carrot and Yuzu zest and mix well.
By JS on Jul 27, 2011
スポンサーサイト
tag : Recipe