Sponsored Link
スポンサーサイト
上記の広告は1ヶ月以上更新のないブログに表示されています。
新しい記事を書く事で広告が消せます。
Chinese-style hot salad / JAPANESE HOME COOKING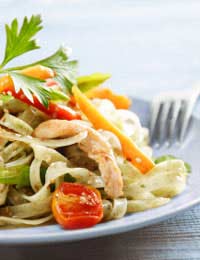 It is not always easy to eat enough vegetables, but here's a good way to pack more in by reducing their volume through cooking. The key to this week's hot salad is boiling the green vegetables quickly in the Chinese soup.
"The flavor of the soup will seep into the vegetables and enhance the flavor," says chef and restaurant owner Tomoshige Ichikawa. Adding oil to the soup is another time-saving tip. The higher boiling point allows the vegetables to cook more quickly. The light coating of oil adds a glossy shine to the vegetables and prevents the sauce from being overabsorbed to make them soggy.
Ingredients:
(Serves four)
* 1/2 head of lettuce
* 4 asparagus spears
* 8 snap peas
* Basic seasoning:
* 600cc Chinese broth (Mix 2 tsp Chinese soup stock powder and 600cc water)
* 1 tsp salt
* 1 tsp sugar
* 1 Tbsp oil
* Bit of pepper
Sauce:
* 1/3 green onion
* 1 Tbsp oil
* 2 Tbsp oyster sauce
* 1 Tbsp sake
* 2 Tbsp Chinese soup
* 1 Tbsp soy sauce
* 1/2 tsp sugar
Method:
Tear lettuce into bite-sized pieces and immerse in water. Trim the woody asparagus ends and slice diagonally. Remove strings from snap pea pods and trim both ends. Chop green onion.
To make the sauce, place oil in a frying pan over low heat, add green onions and oyster sauce and stir-fry until aroma rises. Turn off heat, add the remaining ingredients, then bring to a boil. Pour sauce into a bowl.
Add ingredients for basic seasoning, except for the oil, to the frying pan and bring to a boil. Add oil, snap peas and then asparagus. After about 20 or 30 seconds, add the drained lettuce. When the color changes, place vegetables on a sieve, drain well and arrange on a plate. Pour sauce on top and serve.
By JS on Jul 15, 2011
スポンサーサイト
tag : Recipe