Sponsored Link
スポンサーサイト
上記の広告は1ヶ月以上更新のないブログに表示されています。
新しい記事を書く事で広告が消せます。
Natto (納豆)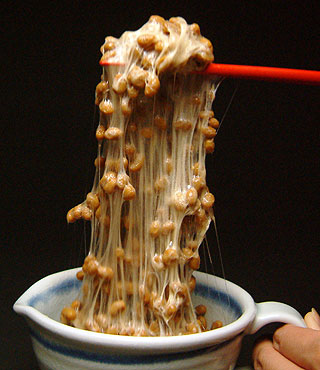 (Natto / Image)
Natto, fermented soybeans known for its stinky aroma and slimy texture, is one food that may be hard for non-
Japanese
to appreciate. Popular at breakfast in Japan natto is stirred using chopsticks until it is thick and sticky. Soy sauce and
Japanese
mustard may be stirred in to the natto before it is spooned over a bowl of rice.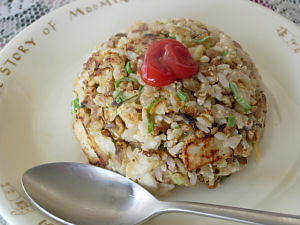 (Fried rice with Natto / Image) / (Pasta with Natto & etc / Image)
Condiments-such as grated daikon, leeks, bonito flakes, sea vegetables, pickled apricots (umeboshi),
Japanese
basil, and in some parts of Japan, apples or sugar-may be added. Dried natto with nori and other seasonings (furikake) is often sprinkled over hot rice. Dried natto beans are a popular beer snack.
Not all natto is the same. It varies according to the size of beans: large, medium, or small; whether the beans are choppped or not; the type of bean used. Most natto is sold in plastic containers, but natto wrapped in straw will have a richer aroma, texture and flavor.
Natto fried rice recipe パラパラ納豆炒飯のレシピ
Natto can also be used as a topping for pasta, or as a filling for deep-fried tofu parcels, or as an addition to fried rice or an omelet. In another dish, called bakudan (literally, "bomb"), natto is mixed with a raw egg yolk, okra, slimy potato, squid, and raw tuna resulting in a very healthy, very slippery, very slimy mixture that is eaten over rice.
Devotees of natto use special natto chopsticks that are designed to make the natto stickier when stirred.
By JS on Jun 6, 2011