Sponsored Link
スポンサーサイト
上記の広告は1ヶ月以上更新のないブログに表示されています。
新しい記事を書く事で広告が消せます。
Salmon burger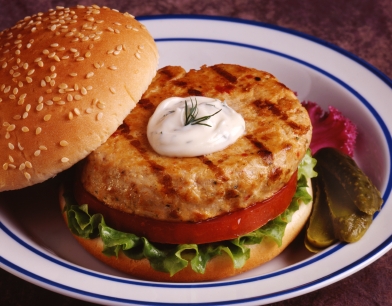 (Salmon burger / Image)
Salmonidae is a family of ray-finned fish, the only living family currently placed in the order Salmoniformes. It includes salmon, trout, chars, freshwater whitefishes and graylings. The Atlantic salmon and trout of genus Salmo give the family and order their names.
We, Japanese, also use Salmon in many kids of Japanese Cuisne.
Ingredients:
(Serves 4)
Salmon patties
* 400g/ 14oz fresh salmon (4 fillets)
* 2-3 tbsp milk
* 1/4 onion
* 1/2 burdock root
* 150g/ 5oz ground pork
* 1 egg
* 1/2 tbsp ginger juice extracted from grated ginger
* Salt
* Pepper
* Vegetable oil
Dill sauce
* 1/2 cup (100ml) mayonnaise
* 2 tbsp consommé
* 1 tsp Japanese mustard
* Soy sauce
* Salt & pepper
* 1 packet fresh dill leaves
* Sliced white bread
* Lettuce & salad herb mix
Dill sauce preparation
Finely chop dill. Put mayonnaise in a bowl. Add consommé, Japanese mustard, soy sauce, salt and pepper and mix well. Add dill and mix. Other aromatic herbs, including fresh basil and mint leaves, could substitute dill.
Method:
1. Cut bread with a pastry cutter or lid of can. Tear leftover bread with fingers to make crumbs. Remove skin and bones, if any, from the salmon fillets. Coarsely chop fillets before mashing with a knife.
2. Pour milk in bread crumbs and mix together. The bread will absorb the moisture.
3. Peel and shave burdock and soak in water to remove bitterness. Then drain thoroughly.
4. Mince onion.
5. Mix well salmon, ground pork, egg, bread crumbs and ginger juice in a bowl. Season with salt and pepper.
6. Add onion and burdock and mix together.
7. Shape mold into patties. They should be the same size as the cut out bread in diameter.
8. Heat vegetable oil in a frying pan. Pan-fry patties until browned on both sides and cooked through.
9. Toast bread. Layer lettuce leaf and salad herb mix on the bread, and place the cooked salmon patty.
10. Pour dill sauce on top, and cover with bread to make a burger.
By JS on May 28, 2011
スポンサーサイト
tag : Recipe