Sponsored Link
スポンサーサイト
上記の広告は1ヶ月以上更新のないブログに表示されています。
新しい記事を書く事で広告が消せます。
Clear Soup with Vegetables and mochi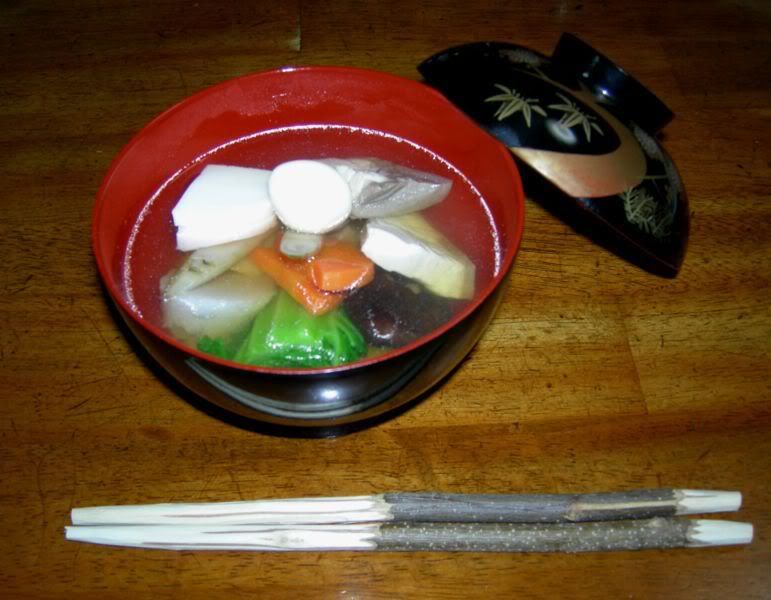 (Clear Soup with Vegetables and mochi / Image)
Regarding "Clear Soup with Vegetables and mochi", we say in Japanese as "Zōni (雑煮)".
Zōni (雑煮), often with the honorific "o-" as o-zōni, is a Japanese soup containing mochi rice cakes. The dish is strongly associated with the Japanese New Year and its tradition of osechi ceremonial foods.
It is said that zōni finds its roots in samurai society cuisine. It is thought to be a meal that was cooked during field battles, boiled together with mochi, vegetables and dried foods, among other ingredients. It is also generally believed that this original meal, at first exclusive to samurai, eventually became a staple food of the common people. Zōni was first served as part of a full-course dinner (honzen ryōri), and thus is thought to have been a considerably important meal to samurai.
Ingredients:
(Serves 4)
* 4 mochi rice cakes
* 200 g thinly sliced beef
* 1/2 carrot (6 cm)
* 40 g bamboo shoot
* 2 shiitake mushrooms
* 1 piece celery (12 cm)
* 1/2 Japanese leek
* 1 bunch watercress
* 6 cups / 1200 ml dashi stock
* salt
* shichimi seven-spice chili pepper
Ingredients for seasoning for beef
* 4 tbsp soy sauce
* 1 tbsp sake
* 1tbsp mirin sweet cooking sake
* 1-2 tsp sugar
* pepper
Method:
1. Cut the beef into 3-4cm pieces.
2. Put it into a bowl. Add the soy sauce, sake, sugar and pepper in this order and mix them.
3. Cut the carrots into 6cm julienne.
4. Cut the bamboo shoot in half lengthwise. Then cut into julienne.
5. Cut off the stem of the shiitake mushroom. Then slice it.
6. Remove the string from the celery and cut it into julienne.
7. Cut the leek into 6cm julienne.
8. Cut off the hard part of the stem of the watercress and cut it into 6cm pieces.
9. Pour the dashi stock into the pot and turn on the heat.
10. When it comes to a boil, add the beef with the seasoning while loosening it.
11. When it comes to a boil again, skim the surface to remove the scum.
12. Add the carrot, bamboo shoot, shiitake mushroom, celery, leek and watercress in this order and let it simmer.
13. Put the fresh-roasted mochi into a serving bowl. Pour the soup with the vegetables.
14. Sprinkle with shichimi togarashi.
By JS on May 14, 2011
スポンサーサイト
tag : Recipe