Sponsored Link
スポンサーサイト
上記の広告は1ヶ月以上更新のないブログに表示されています。
新しい記事を書く事で広告が消せます。
Deep-fried Chicken Nuggets (Tori no kara-age)
Karaage (唐揚げ or 空揚げ or から揚げ) is Japanese cooking technique in which various foods — most often meat, and specifically chicken — are deep fried in oil. Small pieces of the food are marinated in a mix of soy sauce, garlic, or ginger, then lightly coated with a seasoned wheat flour or potato starch mix, and fried in a light oil — similar to the preparation of tempura.
This time taking up herewith "Tori no kara-age" (Deep-fried Chicken Nuggets).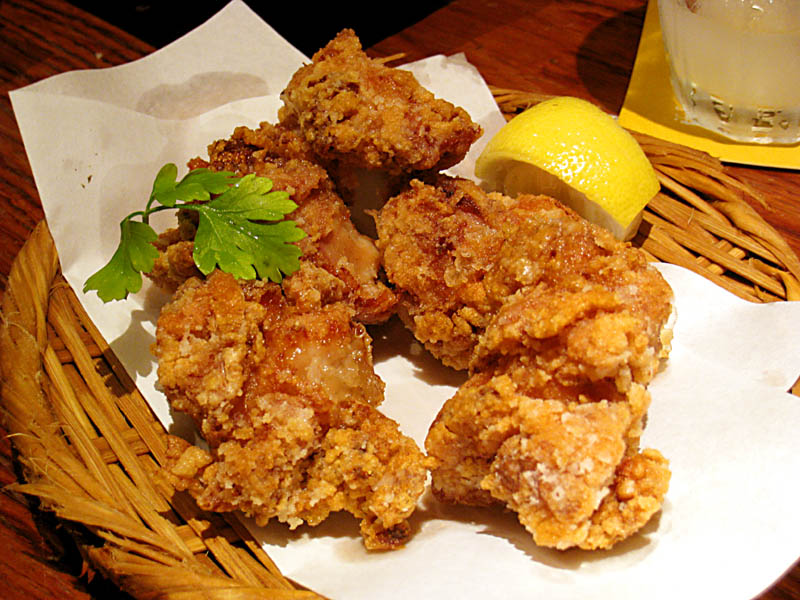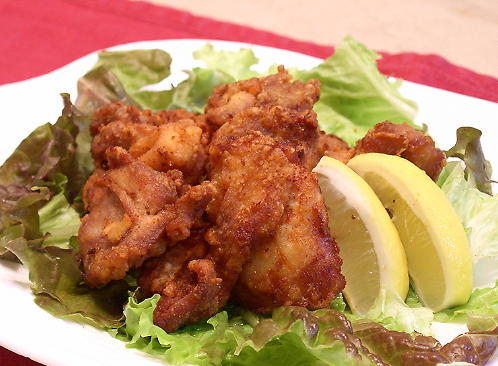 (Tori no Kara-age / Image)
Ingredients:
* 2 boneless chicken breasts, cut into bite-sized cubes
For the marinade:
* 3 tablespoons soy sauce
* 30g (1 oz) root ginger, peeled and grated
* 2 large garlic cloves, peeled and grated
* salt and freshly ground black pepper
For the coating:
* 2 tablespoons cornflour
* 2 tablespoons plain flour
* vegetable oil, for deep frying
* 2 slices lemon, to garnish
Method
The mixture of garlic, ginger and soy sauce enhances the taste of the chicken, with the sliced lemon giving refreshing "bite" to these delicious nuggets.
| | |
| --- | --- |
| | 1. Marinate the chicken with the soy sauce, ginger, garlic, salt and pepper for 30 minutes. |
| | 2. Mix the cornflour with the plain flour. Take each piece of chicken from the marinade and roll in the flour mixture until completely coated. |
| | 3. Heat the oil to 180 degrees C (350 degrees F) and deep-fry the chicken pieces for 4-5 minutes or until a burnished golden brown. Garnish with the sliced lemon and serve on a bed of salad leaves. |
By JS on Feb 26, 2011
スポンサーサイト
tag : Recipe