Sponsored Link
スポンサーサイト
上記の広告は1ヶ月以上更新のないブログに表示されています。
新しい記事を書く事で広告が消せます。
Tofu Otoshiage / Japanese Recipe
Otoshiage is a kind of deep-fried dishes can be made with different ingredients.
In this recipe, tofu is the main ingredient.
It makes a quick appetizer.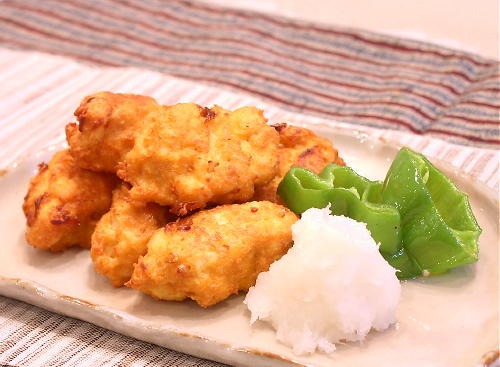 (Tofu Otoshiage / Image)
Ingredients:
(makes 4 servings)
* 1 cotton tofu, drained
* 8 inch negi or leek, chopped
* 1/2 oz. katsuobushi (dried bonito flakes)
* 1 egg, beaten
* 2 Tbsp katakuriko or corn starch
* *oil for deep frying
Preparation:
Lightly squeeze tofu in a cotton cloth to drain out excess water. Place the tofu in a large bowl and mash it lightly. Add negi, katsuobushi, and egg in the mashed tofu and stir well. Mix katakuriko starch in the tofu mixture. Heat oil for deep-frying to 340-350 degrees F. Scoop spoonfuls of tofu mixture and place into the oil. Fry until golden brown and remove from oil and drain.
By JS on Feb 25, 2011
スポンサーサイト