Sponsored Link
スポンサーサイト
上記の広告は1ヶ月以上更新のないブログに表示されています。
新しい記事を書く事で広告が消せます。
"Mabo dofu" spicy tofu and beef
Mabo tofu (mapo tofu), which is a delicious Chinese Szechuan dish, is served over hot steamed rice. Mabo dofu cooked at Japanese home is usually milder than Szechuan mapo tofu.
It is a combination of tofu (bean curd) set in a spicy chili- and bean-based sauce, typically a thin, oily, and bright red suspension, and often topped with minced meat, usually pork or beef. Variations exist with other ingredients such as water chestnuts, onions, other vegetables, or wood ear fungus, but these are rarely considered authentic Sichuanese.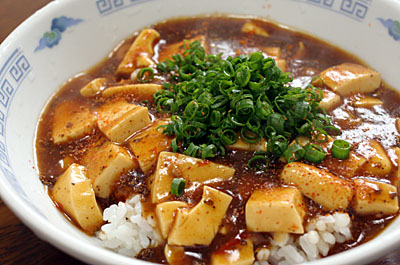 (Mabo-don (マーボー丼) / Image)
Ingredients:
(Serves 4)
* 600g/ 21oz 2 blocks of soft (silk) tofu
* 200g/ 7oz thinly sliced beef
For beef seasoning
* "Shokoshu" Chinese sake
* Soy sauce
* Pepper
* Sesame oil
* 1 cup/ 200ml hot water
* 2 tsp Chinese soup base paste
* 4-5 tbsp soy sauce
* 1 tbsp sugar
* 1 stalk finely chopped Japanese leek
* 1 clove garlic
* 1 knob ginger
* Vegetable oil
* 1 tbsp toban djan (Chinese chili bean paste)
* 2 tbsp "Shokoshu" Chinese sake
* 1 tbsp potato starch dissolved in 1+1/2 tbsp water
* 1-2 crushed "Misansho" (Japanese pepper, very much like Szechuan peppercorn)
* 1-2 tbsp sesame oil
Preparation:
1. Dissolve Chinese soup base paste in hot water, and add soy sauce and sugar.
2. Mince the beef finely with blade. Season with Chinese sake, soy sauce, pepper and sesame oil.
3. Cut the tofu into 1cm square pieces and blanch in hot water with a little salt. Drain in a strainer.
4. Heat vegetable oil in a deep frying pan or wok. Fry half of the chopped Japanese leek, minced garlic and minced ginger.
5. Add beef. When browned, add Chinese sake and toban djan chili bean paste. Stir fry for a while. Add mixture of hot water, Chinese soup base paste, soy sauce and sugar and heat till boil. When the liquid comes to a boil, add tofu.
6. Pour a tablespoon of potato starch dissolved in the water to thicken the broth.
7. Add the rest of the chopped Japanese leek and pour some sesame oil.
8. Sprinkle crushed sansho seedpods, or "Misansho" Japanese pepper (very similar to Szechuan peppercorn) on top.
By JS on Feb 6, 2011
スポンサーサイト
tag : Recipe