Sponsored Link
スポンサーサイト
上記の広告は1ヶ月以上更新のないブログに表示されています。
新しい記事を書く事で広告が消せます。
Edamame Rice
Edamame are green soy beans which are rich in proteins, vitamins, and fibers. Boiled edamame in pods is known as a healthy snack. Shelled edamame beans can be added in various dishes, such as stir-fry, soup, and so on. Adding edamame makes a dish more colorful and nutritious.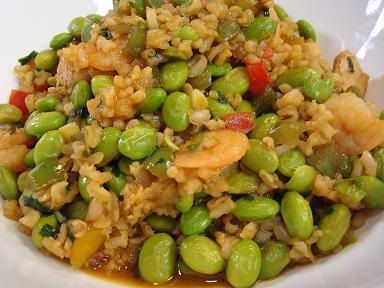 (Edamame Rice / Image)
Ingredients:
(Make 4 servings)
* 2 cups Japanese rice
* 2 1/4 cups water
* 3 inches kombu
* 2 Tbsp sake
* 1 Tbsp soy sauce
* 1 tsp salt
* 1 cup boiled and shelled edamame, or frozen shelled edamame
Preparation:
Put the rice in a bowl and wash it with cold water. Repeat washing until the water becomes clear. Drain the rice in a colander and set aside. Place the rice in rice cooker and add water. Further, add konbu, sake, soy sauce, and salt in the rice. Let the rice soak in the water at least 30 min. Start the cooker. Meanwhile, shell boiled edamame, or thaw frozen shelled edamame. When rice is cooked, add shelled edamame over rice and mix lightly.
By JS on Jan 30, 2011
スポンサーサイト
tag : Recipe