Sponsored Link
スポンサーサイト
上記の広告は1ヶ月以上更新のないブログに表示されています。
新しい記事を書く事で広告が消せます。
Okayu (Rice Porridge)
Okayu is easy to digest and is easy to eat. When you have a stomachache or have a cold, okayu is a good food to eat. Also, okayu is a good baby food. In China, okayu is commonly eaten for breakfast.
This is a recipe to make plain okayu. You might want to add some vegetables or meat, depending on your appetite. (For example, boiled chicken, boiled shrimps, boiled scallops, mushrooms, daikon radishes, and so on.)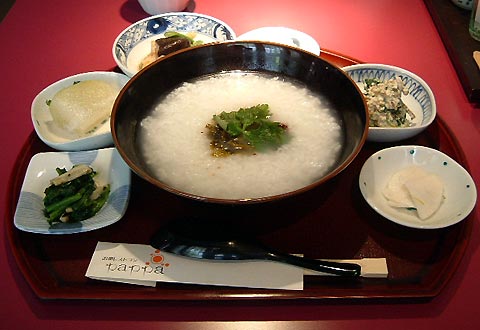 (Okayu (Rice Porridge) / Image)
Ingredients:
(makes 2 servings)
* 1/2 cup Japanese rice
* 3 cups water
* 1/2 tsp salt
* *some chopped green onion
* *sesame seeds
* *umeboshi (pickled plum)
Preparation:
Wash Japanese rice well and drain. Put water and rice in a deep pot or earthenware pot. Leave it for 30 minutes. Put the pot on medium heat and bring to a boil. Turn down the heat to low and cook the rice for about 30 minutes. Add salt before serving. Put toppings, such as chopped green onion, sesame seeds, and umeboshi (pickled plum) if you would like.
By JS on Jan 23, 2011
スポンサーサイト
tag : Recipe