Sponsored Link
スポンサーサイト
上記の広告は1ヶ月以上更新のないブログに表示されています。
新しい記事を書く事で広告が消せます。
Nabemono (quick-cooked stews) / Specialty Restaurant Foods and Menus
Nabemono
dishes are hearty wintertime favorites, prepared from seafood, chicken, or meat and vegetables in a bubbling caldron right at your table.
Serving trays are piled high with raw ingredients and brought to the table, where diners sometimes share in the cooking duties, although often the staff will do all of the preparation. Everyone then helps themself from the communal stew pot, sharing the meal in a convivial manner.
There are restaurants and izakaya that specialize in one particular type of nabemono - for example stews made from chicken, monkfish, turtle, or wild boar - while other izakaya, especially those serving regional cuisines, will offer one or more nabemono varieties along with other dishes. The atmosphere at nabemono-oriented restaurants tends to be very down-to-earth - often the decor will feature a rustic theme, reflecting nabemono's origins in Japan's rural farming regions.
There are many different types of nabemono, depending on the ingredients used. Stews featuring oysters, scallops, cod, salmon, turtle, and chicken are all popular. The variety known as chanko-nabe (containing chicken, seafood, potatoes, and other vegetables) makes up the staple diet of Japan's sumo wrestlers, and specialty chanko-nabe restaurants can be found in the neighborhoods where sumo stables are gathered. Another variety of nabemono is the well-known beef sukiyaki.
Since nabe dishes are cooked quickly, the ingredients retain their individual flavor and identity. The nabemono, then, presents a succession of different tastes and textures as the various vegetables and morsels of seafood are pulled out of the pot and eaten. As the meal progresses, the cooking liquid absorbs more and more flavors (especially from the fish or meat). At the very end, rice or noodles may be added to the pot, soaking up the intense flavors of the remaining liquid and making a filling finale to the meal.
Eating Nabemono
When nabemono is cooked at the table, the cooking pot is placed atop a small gas burner, or a portable charcoal hibachi burner at fancier places. If you're helping with the cooking, generally meats, fish and seafood, mushrooms and crisp vegetables like carrots are added to the pot first, since they take the longest to cook. The most delicate foods (such as tofu and chrysanthemum leaves) should be cooked just before you eat them. Watch them carefully and pull them out quickly, otherwise they'll overcook and fall apart. You may also skim the foam off the top of the liquid with a wooden skimming spoon, although often your waiter will do this.
Seasonings such as scallions, grated radish, and red pepper are usually added to your own private dish of ponzu tare (a citron-flavored soy-base dip) rather than to the communal pot.
NABEMONO SAMPLE MENU
Note: Uppercase letters represent long vowel sounds. (See pronunciation guide below.)
Typical nabe dishes
* Sukiyaki / すきやき・すき焼: thinly sliced beef and vegetables
* Shabu-shabu / しゃぶしゃぶ: thinly sliced beef, quick-cooked in a watery broth
* Yose-nabe / 寄せ鍋: vegetable and seafood (and/or chicken) stew
* Chiri-nabe / ちり鍋: fish and vegetable stew
* Tara (chiri)-nabe / たら(ちり)鍋: codfish and vegetable stew
* Kaki-nabe / かき鍋: oyster and vegetable stew
* Dote-nabe / どて鍋・土手鍋: oyster and vegetable stew with _miso_ (soybean paste)
* Mizutaki / 水炊き: chicken and vegetable stew
* Yanagawa-nabe / やながわ鍋・柳川鍋: stew made from loach, burdock root, and egg >
* Dojo-nabe / どじょう鍋・どぜう鍋: same as yanagawa-nabe>
* Yudofu / 湯豆腐: tofu boiled in hot water
* Udon-suki / うどんすき: broad udon noodles and fish stew
* Aanko-nabe / あんこう鍋・鮟鱇鍋: angler-fish stew* Kamo-nabe / かも鍋・鴨鍋: duck (or dark-meat chicken) stew
* Suppon-nabe / すっぽん鍋: soft-shelled turtle stew * Ishikari-nabe / いしかり鍋・石狩鍋: salmon and vegetable stew with _miso_ (soybean paste) and butter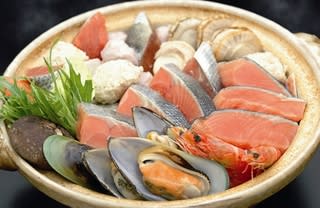 * Sakura-nabe / さくら鍋・桜鍋: horsemeat stew
* Botan-nabe / ぼたん鍋・牡丹鍋: wild boar stew
* Inoshishi-nabe / いのしし鍋・猪鍋: same as botan-nabe
Chanko-nabe
* Chanko-nabe / ちゃんこ鍋
** a hearty, heavy stew made from various ingredients and popular with sumo wrestlers
*** tori-niku -- with chicken / とり肉・鳥肉
*** sakana -- with fish / さかな・魚
*** buta-niku -- with pork / ぶた肉・豚肉
*** ebi -- with shrimp / えび・海老
*** gyu-niku -- with beef / 牛肉
**
Other vocabulary
*** zosui / 雑炊: rice porridge (sometimes added to broth at the end of the meal)
*** udon / うどん: broad noodles (sometimes added at end of meal)
By JS on Dec 5, 2010
スポンサーサイト
tag : Nabemono