Sponsored Link
スポンサーサイト
上記の広告は1ヶ月以上更新のないブログに表示されています。
新しい記事を書く事で広告が消せます。
Katsunuma Wine Cave / Japanese Wine
While few connoisseurs would rate Japan one of the world's great wine-producing countries, there is a thriving domestic wine industry, with several dozen major vineyards nestled in the mountains of Yamanashi Prefecture, just north of Mount Fuji.
And a good place to try out the local product, and maybe discover a few favorites, is the wine-tasting cave at Budo-no-oka Center, right in the heart of Japanese wine country.
Budo-no-oka Center ("Grape-hill Center") was established by a group of local wineries so they could showcase their wares in one central location. Besides the underground tasting area there's also a wine restaurant, an outdoor barbecue area, an observation deck (with a great panoramic view of the surrounding mountains), a wedding chapel and a hotel.
But the main draw is the tasting cave, where Y1,100 gets you a tasting cup and as much wine as you care to sample. You can try any of more than 150 different brands, and of course they're all available for purchase in case you find a special bottle that you want to bring home.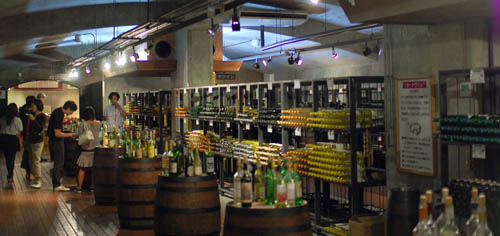 The cave is pleasantly decorated in a vineyard motif, organized around groups of open wine bottles sitting on barrels. It's all self-service, so you can actually try all 150 types if you're so inclined; the day I was there the group over at the next barrel looked like they were working on it.
Visitors here cover a wide range: serious-looking middle-aged types in tweed jackets sipping solemnly, enthusiastic students and young couples, and a gregarious group of local English teachers who seemed to be trying hard to get their money's worth. If you want a short break from imbibing you can wander over to the oddly curated museum display area, where you can see ancient wine-making tools that look more like medieval instruments of torture, collections of unusual wine glasses, and a gallery of old Japanese movie photos.
Although the overall quality isn't anywhere near the level of Australia or California, there are a few decent, or at least drinkable, wines to be found. (There are some pretty bad ones too, but fortunately there are strategically placed receptacles for dumping the rejects.) And of course it's nice being able to taste dozens of different varieties all in one sitting, saving years of trial and error in liquor shops or restaurants.
Upstairs from the cave is a souvenir shop selling wine and other local specialties - fruit wines and juices, wine-flavored candies, wine gelatin desserts, corkscrews and so on. While the wines can be hit or miss, the excellent local grape juice is probably a good bet for a souvenir/present.
Up on the top level is a "wine restaurant" serving food that people out here in the countryside imagine "goes with" wine - beef stew and steaks are heavily represented. Much more interesting is the houtou, an amazing local udon noodle dish made with chunks of carrot, pumpkin, potato, leek, and mushroom simmered in a broth that's so rich it's almost buttery. After lunch take a stroll around the observation deck and enjoy a magnificent view of the surrounding mountains. Or better yet, check into the hotel for a quick nap.
Budo-no-oka Center is a short cab ride from
Katsunuma
Station, on the JR Chuo Line west of Shinjuku, Tokyo. There are plenty of hot spring resorts and hiking trails nearby, and the prefectural capital city of Kofu is just a few stops away by local train.
Also in the general area is the Fuefukigawa Fruit Park, located a few stations west in Yamanashi City. The main attraction here is the fascinating Fruit Museum, where you can explore the history of fruit through the centuries, with particular emphasis on the role of fruit in the history of Yamanashi Prefecture. This sounds like a must-see destination for elementary school field trips, but the day I was there the Fruit Park was actually filled with adults. (Maybe they had been touring the local wineries earlier in the day and were suffering from impaired judgement.)
Perched on a high plateau above the surrounding hills, this fruit-themed complex is housed in several large geodesic domes as well as a few outdoor arbor areas. Next to the Fruit Museum is the Fruit Theater - I was expecting to see an elaborate musical production featuring giant dancing grapes and peaches, but unfortunately there was just a small movie theater showing an educational film about agriculture in Yamanashi. Above the theater is a large and steamy tropical greenhouse, and next door is the Fruit Plaza, where special events are staged. There's also a library, a large gift shop, and a "fruit restaurant"; the restaurant offered only a few fruit-flavored entrees, but they did serve "spaghetti with fruits de mer" (assorted seafood).
Budo-no-oka Center
5 minutes by taxi from
Katsunuma
station
Tel: 0553-44-2111
Admission to wine cave: Y1,100
Wine
cave: 11am-5pm; restaurant 11am-8pm (closes 7:30pm Nov.-Apr.); barbecue 11am-5pm.
Fuefukigawa Fruit Park
15 minutes by taxi or bus from Yamanashi station (buses run infrequently)
Tel: 0553-23-4101
Admission: Y400
Open 9am-5pm.
Yamanashi and
Katsunuma
are 10 and 15 minutes, respectively, from Kofu, which is 90 minutes by express train from Shinjuku. Kofu is also easily accessible from Mount Fuji.
View Larger Map
By JS on Nov 13, 2010
スポンサーサイト