Sponsored Link
スポンサーサイト
上記の広告は1ヶ月以上更新のないブログに表示されています。
新しい記事を書く事で広告が消せます。
Yanagawa-style eel perfect for summer / JAPANESE HOME COOKING
EEL has long been a popular item to beat the summer heat. An easy way to enjoy it is to buy kabayaki broiled eel with sweet soy sauce flavor and prepare it in Yanagawa style, or cooked-with-egg-in-pan style, with a twist.
Instead of the usual loach and burdock root popular since the Edo Period (1603-1867), cooked eel and onion are used.
"The sweetness of the onion will bring out the flavor of the eel. The taste of bargain-priced eel will rise one notch," says Tatsuo Saito, expert in Japanese cuisine.
You have done well if the egg comes out fluffy, the eel is soft and there is a sense of unity between the two.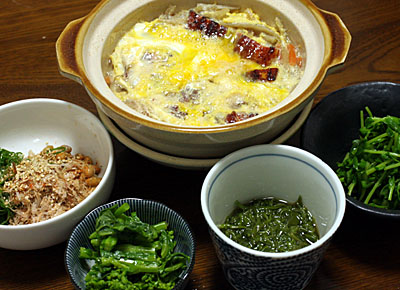 (Yanagawa-style eel / Image)
INGREDIENTS:
(serves three)
* 1 piece of kabayaki eel (150 grams)
* 1 onion (240 grams)
* 1/2 bunch of mitsuba leaves
* 3 eggs
* Seasoning (150 cc water, 1 Tbsp sweet soy sauce that comes with kabayaki, 1 Tbsp sugar, 1 and 1/2 Tbsp soy sauce)
METHOD:

Cut cooked eel in half lengthwise and slice into 2-cm pieces. Cut onion in half lengthwise and slice halves thinly at a right angle. Cut mitsuba into 3-cm pieces.
Put all ingredients for the seasoning in a frying pan and bring to a boil. Reduce to medium heat, add onion slices and cook for two to three minutes.
When the onion is soft, place eel pieces in the pan with the skin facing down.
After one to two minutes, pour beaten eggs from the center toward the rim in a circle. Poke with chopsticks several times to create holes to allow the stock to rise above the egg liquid.
When the egg is half-cooked, add mitsuba and turn off the heat. Cover and steam for about a minute. Serve with a large spoon and sprinkle with sansho powder to taste.
An easy way to warm kabayaki is to put it on a "cooking sheet" (silicon- or teflon-coated paper) and place on just-cooked rice in a rice cooker. The steam will soften the kabayaki.
By J.S. on Sept 12, 2010
スポンサーサイト
tag : Yanagawa