Sponsored Link
スポンサーサイト
上記の広告は1ヶ月以上更新のないブログに表示されています。
新しい記事を書く事で広告が消せます。
Crab and Cream Croquettes / Japanese Food & Cooking
The croquette is usually shaped into a cylinder or disk, and then deep-fried. The croquette (from the French croquer, "to crunch") was a French invention that gained worldwide popularity, both as a delicacy and as a fast food.
And "Crab and Cream Croquettes" is very popular in Japan.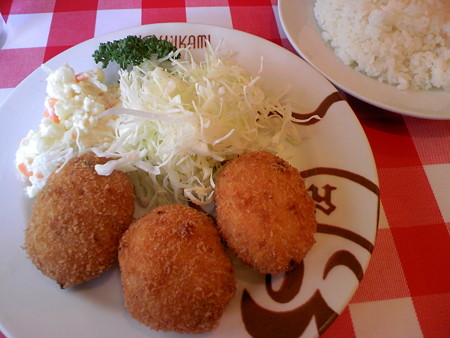 (Crab and Cream Croquettes / Image)
Ingredients

(Serves 4)
Ingredients for Microwave White Sauce
* 2 tbsp plain flour
* 1 tbsp cornstarch
* 1 cup milk
* 1 tbsp butter
* 1/2 tsp granulated consomme
* 2 tbsp fresh cream
* pepper
* salt
* plain flour
* 1 egg beaten
* breadcrumbs
Method:

1. Pick out the crabmeat. Remove the cartilage. Tear it into thin pieces.
2. Peel the potato and cut it into four to six. Soak it in water. Line a heat-resistant bowl with a paper towel and place the potato quarters on it. Cover the bowl with plastic wrap loosely. Microwave it for about five to six minutes.
Remove the paper towel and mash the potatoes.
3. Put the flour and cornstarch into a small bowl. Add the milk, little by little, and mix well.
Cover the bowl with plastic wrap and microwave it for about 2 and a half minutes.
While it is hot, mix it with a small eggbeater. Add the butter and then the consommé, fresh cream and pepper and mix them well.
4. Add the white sauce to the potato and mix well. Let it cool.
5. Add the crab meat and mix roughly. Season it with salt and pepper.
6. Shape the mixture into individual balls. Cover them with flour, dip them in the beaten egg and finally coat with the bread crumbs. Heat the oil and deep fry until they are crisp.
7. Serve the croquettes with shredded cabbage, sudachi, lemon and your favorite sauce.
By A.S. on Sept 11, 2010
スポンサーサイト
tag : Crab and Cream Croquettes