Sponsored Link
スポンサーサイト
上記の広告は1ヶ月以上更新のないブログに表示されています。
新しい記事を書く事で広告が消せます。
Decorative Food Carving - Cucumber
Here the tableware and fish provide a pleasing range of colors from yellow to green to brown. The red tops of the ginger sticks complement the brown, so the Japanese Fan garnish needs only to pique visual interest with movement and form.
An additional benefit is the way it draws in the greens and yellows. Any simple slab form, whether meat or fish or vegetable, is easily enlivened with this garnish.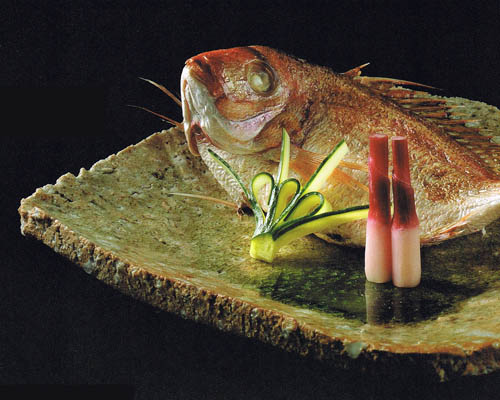 (Grilled Sea Bream decorated with Food Carving / "Cucumber" / Image)
Ingrediants:

* Cucumber
Method:


(Left: Method 1)       /       (Right: Method 2)
1. Cut a 2-inch (5cm) length from the top of a cucumber, about 1/2 inch (1.3cm) high and 1/2 inch (1.3cm) wide. Make 6 cuts and even widths (about 1/12 inch/ 2mm).
2. Fold in every other leaf to make loops.

(Left: Method 3)       /       (Right: Method 4)
3. Make 3 loops.
4. Remove the peel from the base of the Fan. Soak in water for 30 seconds.
By J.S. on Sep 6, 2010
スポンサーサイト