Sponsored Link
スポンサーサイト
上記の広告は1ヶ月以上更新のないブログに表示されています。
新しい記事を書く事で広告が消せます。
Uji- kintoki (宇治金時) / Dessert / Japanese Summer Recipe
Japanese shaved ice is called kakigori. There are a variety of kakigori flavors, and a traditional kind is Uji- kintoki kakigori which is flavored with green tea syrup and anko (sweet azuki beans).
Sweetened condensed milk is often poured over Ujikintoki kakigori.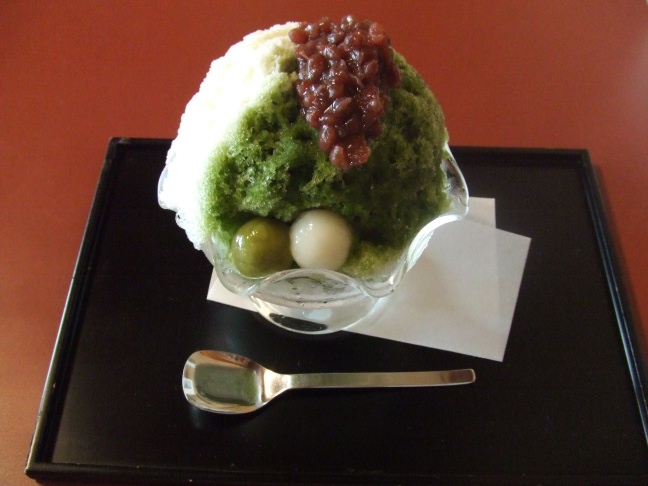 (Ujikintoki Kakigori - Japanese Shaved Ice)
Ingredients:

(make 1 serving)
* 1 tsp green tea powder
* 2 tsp granulated sugar
* 2 Tbsp sweetened condensed milk
* 2 Tbsp anko
* * ice cubes or a block of ice
Preparation:

Dissolve green tea powder and granulated sugar in 2 Tbsp of hot water. Cool the syrup and put in a small serving bowl. Shave ice over the green tea syrup, using a home shaved ice machine. Top with anko. Pour sweetened condensed milk over the ice.
By J.S. on Aug 28, 2010
スポンサーサイト