Sponsored Link
スポンサーサイト
上記の広告は1ヶ月以上更新のないブログに表示されています。
新しい記事を書く事で広告が消せます。
Japanese Grilled Eggplant Recipe / Japanese Summer Recipe
Japanese grilled eggplants are called yakinasu and usually served cold.
It's a traditional Japanese summer dish.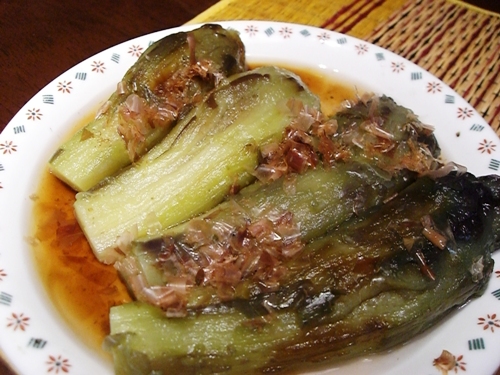 (Japanese Grilled Eggplant / Image)
Ingredients:
2 servings
* 4 Japanese eggplants
* 2 tsp grated fresh ginger
* 2 Tbsps katsuobushi (dried bonito flakes)
* *soy sauce for seasoning
Preparation:

Heat grill. Place eggplants on the hot grill. Grill them until they are softened and the skins get really burnt. Cool the grilled eggplants in water and peel the skins. Dry eggplants with paper towels and trim the stems. Chill eggplants in the refrigerator. Serve them on a plate and put katsuobushi and grated ginger on top. Season with some soy sauce before eating.
By J.S. on July 30, 2010
スポンサーサイト