Sponsored Link
スポンサーサイト
上記の広告は1ヶ月以上更新のないブログに表示されています。
新しい記事を書く事で広告が消せます。
Japanese Soba Salad / Japanese Summer Recipes
Soba are Japanese buckwheat noodles and can be cooked in many ways.
Soba salad isn't a traditional Japanese dish but is a refreshing dish to make during the summer.
Please enjoy!

(Japanese Soba Noodle Salad)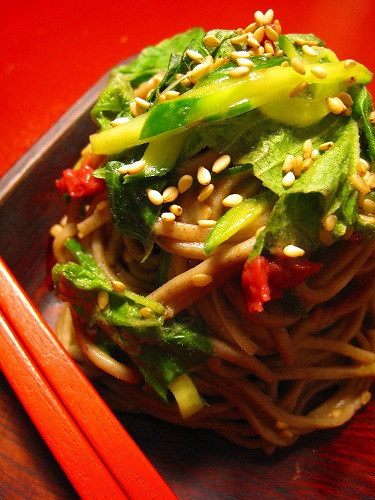 Ingredients:

Makes 4 servings
* 5 oz. dried soba buckwheat noodles
* 1/2 cup shredded carrots
* 1 yellow bell pepper, stemmed, seeded, and julienned
* 1 small cucumber, julienned
* 4 lettuce leaves, torn into bite-sized pieces

For dressing

* 3 Tbsp dashi soup
* 2 Tbsp soy sauce
* 1 1/2 Tbsp rice wine vinegar
* 1 Tbsp mirin
* 1 tsp sugar
* 1 tsp sesame oil
* 1/2 tsp wasabi paste
Preparation:

Boil dried soba noodles, following the package instructions. It usually takes a couple minutes to boil soba. Drain and cool soba noodles in cold water and gently wash them with hands. Drain well and set aside. Mix all the ingredients for dressing in a small bowl. Place soba noodles, carrot, yellow bell pepper, cucumber in a large bowl. Pour the dressing over them and mix well. Line a serving bowl with lettuce leaves. Serve soba salad on lettuce leaves.
By J.S. on Aug 7, 2010
スポンサーサイト