Sponsored Link
スポンサーサイト
上記の広告は1ヶ月以上更新のないブログに表示されています。
新しい記事を書く事で広告が消せます。
List of Japanese dishes / Noodle dishes / Japanese Food & Cooking
A noodle is a type of food with a thin and elongated shape made from unleavened dough that is cooked in a boiling liquid.
Depending upon the type, noodles may be dried or refrigerated before cooking. The word derives from the German Nudel (noodle) and may be related to the Latin word nodus (knot).
Noodles often take the place of rice in a meal. However, the Japanese appetite for rice is so strong that many restaurants even serve noodles-rice combination sets.
Noodles (men-rui, 麺類)

○ Traditional Japanese noodles are usually served chilled with a dipping sauce, or in a hot soy-dashi broth.
*
Soba(蕎麦)
: thin brown buckwheat noodles. Also known as Nihon-soba ("Japanese soba"). In Okinawa, soba likely refers to Okinawa soba (see below).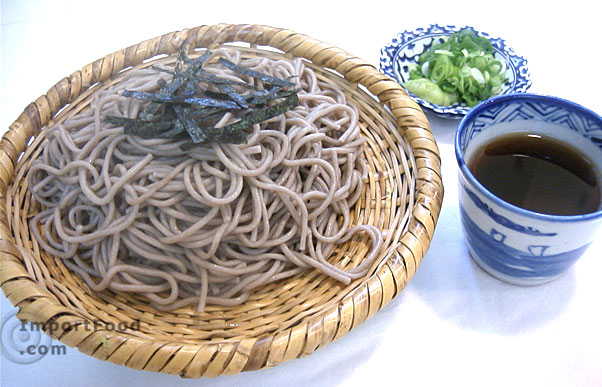 *
Udon(饂飩)
: thick white wheat noodles served with various toppings, usually in a hot soy-dashi broth, or sometimes in a Japanese curry soup.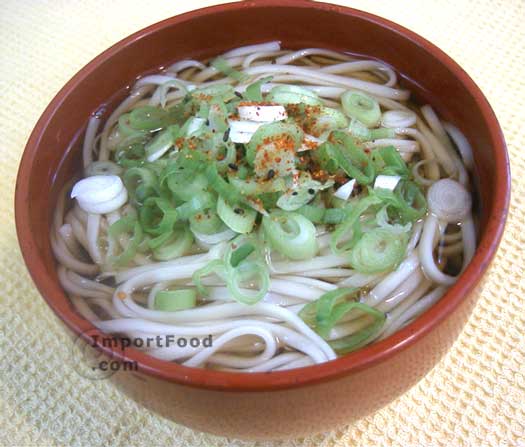 *
Somen(素麺)
: thin white wheat noodles served chilled with a dipping sauce. Hot Somen is called Nyumen.
○ Chinese-influenced noodles are served in a meat or chicken broth and have only appeared in the last 100 years or so.
*
Ramen
: thin light yellow noodles served in hot chicken or pork broth with various toppings; of Chinese origin, it is a popular and common item in Japan. Also known as Shina-soba (支那そば) or Chuka-soba (中華そば) (both mean "Chinese-style soba")
○ Other kind of noodles are as follows.
*
Champon
: yellow noodles of medium thickness served with a great variety of seafood and vegetable toppings in a hot chicken broth which originated in Nagasaki as a cheap food for students
*
Okinawa soba
: thick wheat-flour noodles served in Okinawa, often served in a hot broth with sōki, steamed pork. Akin to a cross between udon and ramen.
*
Zaru soba
: Soba noodles served cold
*
Yaki soba
: Fried Chinese noodles
*
Yaki udon
: Fried udon noodles
By J.S. on July 13, 2010
スポンサーサイト