Sponsored Link
スポンサーサイト
上記の広告は1ヶ月以上更新のないブログに表示されています。
新しい記事を書く事で広告が消せます。
Deep-fried Horse Mackerel (アジフライ) / Japanese Food & Cooking
Aji, aka horse mackerel, have a deliciously oily flesh (think omega-3's and all the good stuff) and are very simple to cook. Delicious raw or a great fish to grill because its oily flesh doesn't dry out quickly and it is quite thin so it cooks quickly.
Aji is a great choice for fans of mackerel, sanma, and other cold-water fish that have a lot of flavor and character. This aji showcases both a delicate, supple texture a full, robust flavor.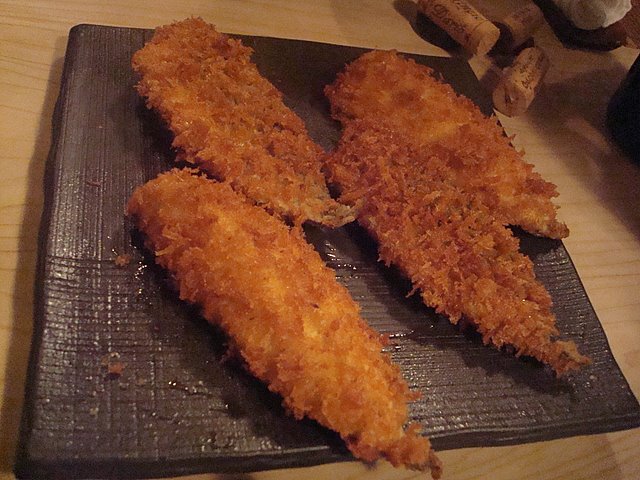 (Deep-fried Horse Mackerel (アジフライ) / Image)
Ingredients:
(Serves 4)
* 4 horse mackerels
* 4-5 leaves cabbage
* salt and pepper
* flour a little
* egg a little
* breadcrumbs a little
* 10 shiso perilla leaves
* mayonnaise 1/2 cup / 100ml
* 1 tsp Japanese mustard
* light soy sauce
* 1 tbsp consomme soup
* 1 tbsp white wine
Directions:

1. Remove the hard scales of the horse mackerel. Cut off the head. Cut the stomach open. Remove the innards.
2. After removing the insides, thoroughly wash the fish in water and wipe it dry with a paper towel.
3. Slice from the tail. Turn it over and repeat on the other side.
Shave off the bone.
4. Season the horse mackerel with salt and pepper.
5. Coat the horse mackerel with flour, dip it in the beaten eggs and then coat it with breadcrumbs.
6. Heat the oil and deep-fry the horse mackerel to make it crispy.
Make sure it is cooked throughout.
7. Mix the mayonnaise, white wine, consommé soup, light soy sauce, Japanese mustard, chopped shiso leaves.
8. Serve the fried horse mackerel on a plate and garnish it with julienned cabbage
Serve it with shiso mayonnaise.
By J.S. on June 26, 2010
スポンサーサイト