Sponsored Link
スポンサーサイト
上記の広告は1ヶ月以上更新のないブログに表示されています。
新しい記事を書く事で広告が消せます。
Chara-ben! (キャラ弁) / Japanese Food Culture
There are so many businesspersons who bring hand-made "obentoes" or "bentoes" (lunch boxes) in Japan. It's really good for them to do it because it saves their money and is beneficial to their health.
And some of them take more time and use their ingenuities to make their original bentoes called "Chara-ben".

(Pokemon characters on bento)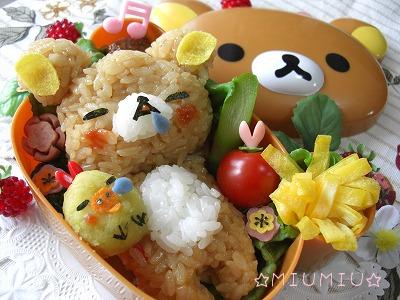 Housewives make bentoes for their children but many kids tend to hate green peppers or carrots. So mothers had to exercise wisdom to encourage them to eat food like those kinds of vegetables.
Then finally they found the way. They started to put cartoon (or anime) character-shaped foodstuffs on bentoes and kids got excited at them. It may be no exaggeration to say that mothers have revolutionized the way of making bentoes.

(Black Jack)



(Portrait of kabuki actor)
In Akihabara, you can learn how to make Chara-ben in the French language! The Institute of Creative Industries and Culture (ICIC) will have a Chara-ben workshop in this coming March. "Obento" is experiencing a boom in France now.
By J.S. on June 21, 2010
スポンサーサイト
tag : Chara-ben! (キャラ弁)