Sponsored Link
スポンサーサイト
上記の広告は1ヶ月以上更新のないブログに表示されています。
新しい記事を書く事で広告が消せます。
Stir fried String bean and ground pork(いんげんと豚ひきの炒め物)
Ingredients:
* 300g string beans
* 150g ground pork
* 3 tbsp finely choped long green onion
* 2 tbsp finely choped ginger
* 1/2 tbsp finely chopped garlic
* 3 tbsp soy sauce
* 1 tbsp vegetable oil
* 1 choped red chili
* 1 tbsp sesame oil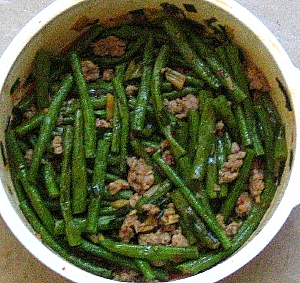 (Stir fried String bean and ground pork / Image)
Direction:
1. Remove the string of beans and boil. Chill under cold running water and pat- dry. And cut diagonally in bite size pieces.
2. Heat the oil in a frying pan and add the long green onion, ginger and garlic and fry. When it comes to smell the aroma, add the pork and stir fry.
3. When the pork is cooked, add the string beans and frying continue. Add the soy sauce and red chili and stir- fry briefly. Finally, drizzle the sesame oil over it.
This recipe Serves 4 people. There you have it. Hope you enjoy this, until next time let's cook together.
By J.S. on June 7, 2010
スポンサーサイト