Sponsored Link
スポンサーサイト
上記の広告は1ヶ月以上更新のないブログに表示されています。
新しい記事を書く事で広告が消せます。
Mama's miso soup (おふくろの味) / Japanese Taste
Most middle-aged Japanese are instantly transported back to childhood at the mere mention of their mama's miso soup.
For those hailing from Kyushu and the southwest provinces of Japan's main island of Honshu, taste memories are likely to include a steaming bowl of breakfast soup seasoned with winy, caramel-colored, mugi (barley) miso.
Those born in Nagoya are probably immersed in recollections of deep, burnished brown Hatcho miso soup afloat with silky cubes of tofu.

(Hatcho Miso / Image)



(Hatcho Miso / Image)
Hatcho Miso is famous for the same reason that Okazaki is famous:
Tokugawa Ieyasu
, stone products, and fireworks. Hatcho Miso has a unique flavour which is made from high-quality soybeans, salt and water. Cooked and mashed soybeans are shaped into small balls and mixed with salty water. Then the Miso ferments for 3 winters. Hatcho Miso is made by the Hatcho Miso Company in Hatcho (Eighth street), to the west of Okazaki castle. The name Hatcho is taken from this location. In the Meiji era, Hatcho Miso became the daily choice of the Emperor of Japan.

(おふくろの味 / Image)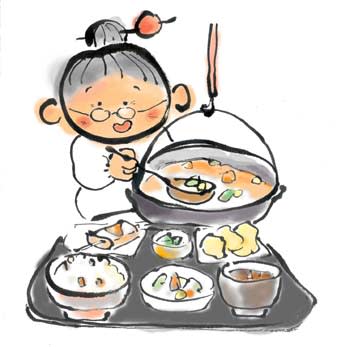 (おふくろの味 / Image)
Natives of Shikoku and the Kansai region, particularly those who grew up in Kyoto and Nara, are no doubt thinking fondly of miso zoni, the New Year's rice taffy porridge that is thickened with pale, creamy-sweet Saikyo miso.

(Saikyo Miso / Image)
Preferences for one type of miso or another are typically linked to regional identity, though each household will develop its own, intensely personal, rendition.
By J.S. on May 28, 2010
スポンサーサイト