Sponsored Link
スポンサーサイト
上記の広告は1ヶ月以上更新のないブログに表示されています。
新しい記事を書く事で広告が消せます。
Takoyaki (たこ焼き) / Japanese Food
Takoyaki (たこ焼き or 蛸焼) (literally fried or baked octopus) is a popular Japanese dumpling made of batter, diced or whole baby octopus, tempura scraps (tenkasu), pickled ginger, and green onion, topped with okonomiyaki sauce, ponzu, mayonnaise, green laver (aonori), and katsuobushi (fish shavings), first popularized in Taisho-era Osaka, where a street vendor named Endo Tomekichi is credited with its invention in 1935.
Takoyaki can be found in shops called issen-yoshoku (壹銭洋食), which roughly translates to "one-penny Western food". There is a similarly named dish called ikayaki but it is a broiled whole squid and bears no resemblance. Yaki is derived from "yaku" (焼く)  which simply means "to bake or grill" in Japanese, and can be found in the names of other Japanese cuisine items such as teriyaki  or sukiyaki.
Takoyaki Recipe is as follows.

(Takoyaki served by Takoyaki Shop / Image)



(Takoyaki Shop / Image)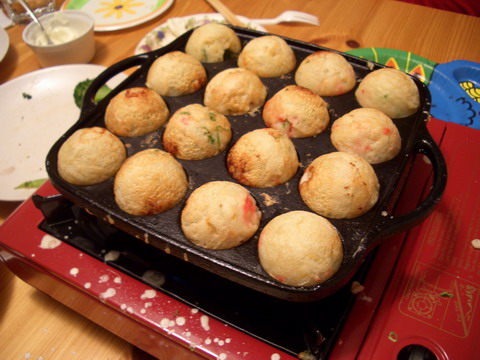 (Takoyaki as home cooking / Image)
Ingredients:
200g chopped boiled octopus
cooking oil
benishoga (pickled ginger) (to taste)
chopped negi (or scallions) (to taste)
tenkasu (or rice crispies) (to taste)
Batter:
450cc water
1 piece konbu (kelp), 10cm square
15g powdered katsuo-bushi (shaved dried bonito)
200g flour
2 eggs
Sauce:
commercial takoyaki sauce
or worcestershire sauce
or bulldog sauce
or mayonnaise (Best Foods or Hellman's)
Cooking time: 10-20 minutes
Servings: 50-60 pieces (4-5 persons)

By J.S. on May 24, 2010
スポンサーサイト