Sponsored Link
スポンサーサイト
上記の広告は1ヶ月以上更新のないブログに表示されています。
新しい記事を書く事で広告が消せます。
Japanese sembei crackers / Japanese Food
Japan is a snackers' heaven.
Convenience stores are everywhere you look, and hot and cold running snacks are at your fingertips 24 hours a day.
Potato chips alone come in well over 100 flavors, running the gamut from exotic Thai tom yum and Caesar salad to the more Japanese-inspired gyoza (pork dumpling) and mentaiko (spicy cod roe).


(Old Style Store Image who is selling Sembei)
Just as varied in style and flavor is a more traditional snack - sembei, aka the Japanese rice cracker. You can find sembei flavored with soy sauce, nori (dried laver seaweed), kombu (kelp), sesame seeds (both black and white), and soybeans, plus a huge range of more modern flavors like cheese, chocolate, and kimchee.
Smaller sembei often come mixed with other snackable ingredients such as peanuts or pine nuts.

(Soka Sembei / Image)
Traditional sembei are large, round and savory. Another type is
arare
(literallly "hailstones") - tiny and usually pellet-shaped, but also found shaped like animals (like the
tanuki
, or badger), seeds, maple leaves (
momiji
) or cherry blossoms (
sakura
).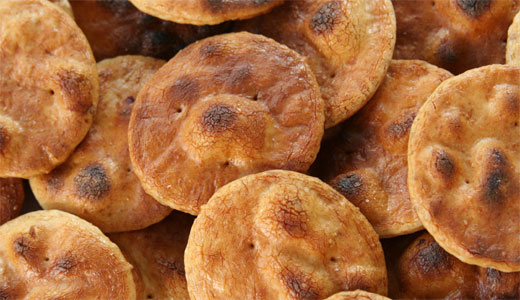 (Soka Sembei / Image)
A third type is
kaki
- bite-sized and sold in a variety of shapes. Sembei aren't all savory either; sweet sembei are made with wheat flour instead of rice flour.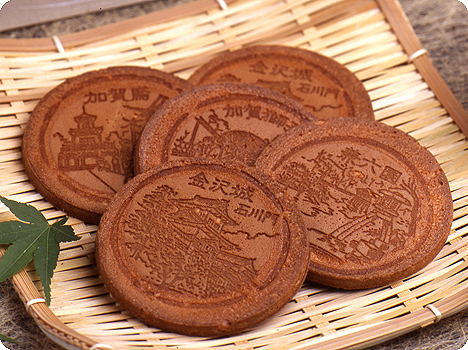 (Another kind of Sembei / Image)
One unusual variation is
yasai sembei
, vegetables that have been thinly sliced, covered in sugar and baked.
Nuresembei
are rice crackers that have been heavily doused with soy sauce and mirin, leaving a
mochi mochi
(chewy) consistency.
Look for
genkotsu
if you want something extremely hard, or try
zarame
(sugar-coated sembei) if you've got a sweet tooth. And a Tokyo shop called Mame Gen sells a popular snack made from nuts and beans covered with a sembei-like coating.

(Arare Sembei etc for gift / Image)
There are strong regional variations as well - sembei from Kanto (the area around Tokyo) were originally based on
uruchimai
, a non-glutinous rice, and they tend to be more crunchy (
kari kari
) and richly flavored.
On the other hand, sembei from Kansai (Kyoto/ Osaka) were made from glutinous rice, and they're more lightly seasoned and delicate in texture (
saku saku
).

(Square Style Sembei / Image)
Sembei have a long history, going back to the ninth century in Japan and even further back to the seventh century in China. The original crackers were sweet and flour-based, and it wasn't until the 17th century that rice was used. If you want to step back into time,

(Arare Sembei / Image)
Asakusa is one of the best places to observe the final step in the sembei-making process - the grilling and seasoning of the crackers. There are a few vendors along the route leading up to Senso-ji Temple where you can get sembei hot off the grill for around 100 yen.
By J.S. on Apr 17, 2010
スポンサーサイト