Sponsored Link
スポンサーサイト
上記の広告は1ヶ月以上更新のないブログに表示されています。
新しい記事を書く事で広告が消せます。
Wakatakeni Recipe (Simmered Bamboo Shoots and Wakame)
It's a popular Japanese spring dish.
When fresh bamboo shoots are available (around from mid March to mid May), it's simmered with wakame seaweed. Bamboo shoots and wakame seaweed go well together.

(Bamboo shoots)

(Wakatakeni Recipe / Image)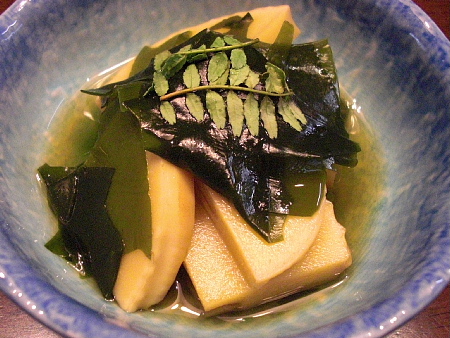 (Wakatakeni Receipe / Image)
Ingredients:
3/4 lb. boiled bamboo shoots, cut into chunks
2 1/2 cups dashi soup stock
3 Tbsp soy sauce
3 Tbsp mirin
1/4 lb. softened wakame, cut into 1 1/2 inch length
*sansho leaves for garnishing
Preparation:

Put dashi soup stock and bamboo shoots in a large pot and bring to a boil on high heat.
Turn down the heat to low and add mirin and soy sauce.
Put a drop lid and simmer for 15 minutes or until bamboo shoots are softened.
Add wakame seaweeds and simmer for a few minutes.
Serve in a bowl and garnish with sansho leaves.
By J.S. on Apr 13, 2010
スポンサーサイト