Sponsored Link
スポンサーサイト
上記の広告は1ヶ月以上更新のないブログに表示されています。
新しい記事を書く事で広告が消せます。
Chirashi-zushi / Japanese Food
What is Chirashi?
Chirashi-zushi is literally scattered sushi.
It is a bowl of sushi rice with the ingredients placed or scatter on the top verses rolled like tradition sushi. It is a quick and fairy inexpensive way to have a great meal.

(Chirashi-zushi / Image)
It is a bit more filling than traditional sushi in the fact the base is a bowl full of rice rather than a small ball rolled with the ingredients.
There is no right or wrong way to make your Chirashi. You simply place your favorite ingredients whether it is fish, shrimp or even egg.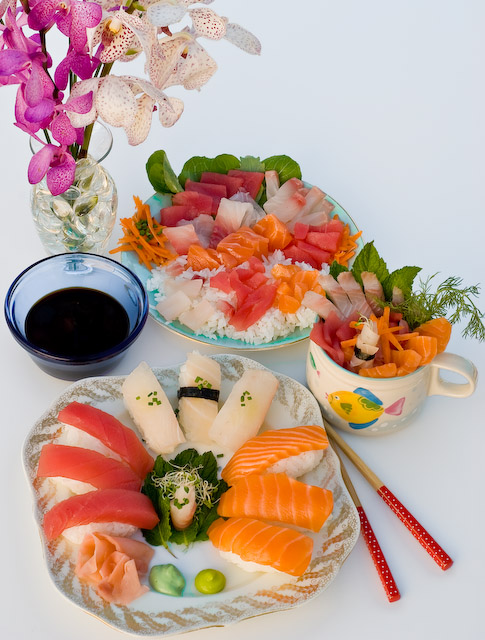 (Chirashi-zushi / Image)
How to make Chirashi


Chirashi is quiet possibly the easiest sushi to make. The placement and number of ingredients is solely up to you. Keep in mind that with most cuisine, especially Japanese, food is art. So, take some time to make your bowl look pretty. It will not take a long time to make something look like a piece of edible art.
1. Fill you bowl with sushi rice
2. Neatly place ingredients on top of rice.
3. ENJOY!
Commonly Chirashi has about 6 different toppings. But remember this is your creation. I have been known to make Chirashi with only White tuna, Tuna, and Eel.
How to make Sushi Rice
Makeabout 4 to 5 cups of sushi rice in you handy dandy rice cooker. If you do not have a rice cooker it is possible to make your rice on the stove. Make sure you keep an eye on your rice on the stove or it could burn. Once the rice is done, allow it to cool for about 10-15 minutes. This is the time I like to start cutting my fish if I am going to put raw fish on my rice. While the rice it warm, you will sprinkle your rice vinegar mixture on top of the rice. As you as sprinkling fan the rice. Then use your rice paddle in a cutting motion to fold in the rice vinegar. Take time not to mash your rice.
Vinegar Mix for sushi rice.
6 tablespoons Japanese rice vinegar
2 tablespoons sugar
1-1/2 teaspoons salt
Chirashi is a great way to have a filling and inexpensive meal. I love to make Chirashi when entertaining guest. It takes such a short time to make, but the presentation makes my guest feel as though they are eating something spectacular. When entertaining I will top my rice with about three slices tuna, white tuna, salmon, egg omelet, and steam shrimp respectively. I will garnish it with some grated diakon, pickled ginger and a ball of wasabi. I will top of the meal with a bowl of miso soup and green tea.
By J.S. on Apr 6, 2010
スポンサーサイト
tag : Chirashi-zyshi / Japanese Food