Sponsored Link
スポンサーサイト
上記の広告は1ヶ月以上更新のないブログに表示されています。
新しい記事を書く事で広告が消せます。
Japanese Kitchens / Japanese Food
Traditional Japanese kitchens and cooking centered around the stove and the hearth.
Food was cooked in pots over a kamado, a stove made of earth or clay. It functions much like a modern stove, except that it is heated by an open fire instead of gas or electricity.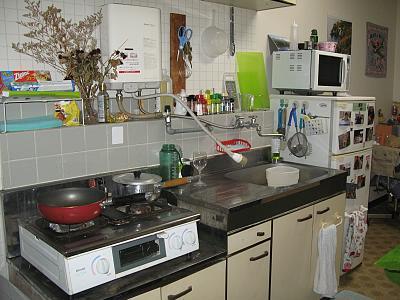 A typical older Japanese kitchen
The hearth or irori was another important place for cooking, eating, and entertaining and is the image that often comes to mind when thinking of traditional Japanese folk houses.
It consisted of a square pit in the floor filled with earth or ashes.
Over the pit is a hook which is used to hang pots and kettles over the fire. While the irori was used for cooking, it also provided heat and light to the home.
| | |
| --- | --- |
| Kamado | Irori |
Traditional Japanese cooking involves a lot of boiling, broiling, steaming, grilling, and frying, and while the modern kitchen is very similar to its western counterpart, it has developed in a way that centers around these techniques.

The centerpiece of the traditional kitchen, the kamado, has been replaced by the gas stove which often has an integrated broiler. Typical homes will also have a refrigerator, a microwave oven, a rice cooker, and a toaster oven. Less common are dishwashers and ovens.


| | |
| --- | --- |
| Stove | rice cooker |
Many of these appliances have been adapted for the Japanese kitchen. For example, until recently it was not common for appliances to be built into the cabinets, so dishwashers and ovens have been available as countertop models. However, newer homes often have a "system kitchen" in which appliances such as the stove, broiler, and dishwasher are integrated into the cabinets.
| | |
| --- | --- |
| Dishwasher | Microwave Oven |
While baking is popular, most people do not have a dedicated oven. Instead, hybrid microwave ovens have been developed that have special modes for baking and toasting as well as modes for heating rice, sake, and bento (lunch box).
By T.S. on Mar 21, 2010
スポンサーサイト