Sponsored Link
スポンサーサイト
上記の広告は1ヶ月以上更新のないブログに表示されています。
新しい記事を書く事で広告が消せます。
What is the Spirit of Japanese Cuisine?
What is the Spirit of Japanese Cuisine?
Japan is geographically blessed with a diverse climate ranging from subarctic to subtropic with mountains and rivers nearby, and four distinct seasons.
In addition, since both warm and cold currents flow from the Sea of Japan and the Pacific Ocean, the convergence of these two currents creates conditions for an abundant and diverse sea life.
In addition to the variety of seafood available, what makes Japanese cuisine especially appealing is also based on the use of an array of rare foods including seasonal foods from the mountains and various regions.
Japanese style cooking focuses on preserving and bringing out the natural flavors of each ingredient in contrast to Chinese and French cuisine where flavors are added.
It is difficult to describe Japanese cuisine because of the diversity in styles that exist including kaiseki*, fucha* or shojin*, shippoku*, and kawauo* style cuisine, and cuisines focused on one ingredient such as eel or blow fish.
Similarly, there are also different styles of restaurants including ryoutei (restraurant who serves Japamnese Food and Cooking), kappo, and a variety of restaurants that prepare dishes based on a single ingredient as mentioned above.
*
kaiseki
- an artistic seasonal course meal served at restaurants or ryotei

(Kaiseki / Image)
*
fucha
-Chinese style shojin or vegetarian cuisine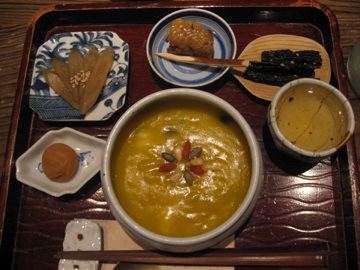 (Fucha / Image)
*
shojin
- vegetarian cuisine developed by Zen Buddhist monks in Kyoto

(Shojin / Image)
*
shippoku
- a course meal of Japanese style Chinese dishes based in Nagasaki

Shippoku / Image
*
kawauo
- freshwater fish cuisine

(Kawauo Cooking / Image)
*
ryoutei
- traditional style Japanese restaurants serving full-course meals
*
kappo - intimate
, small scale and often counter style restaurant serving course meals
By J.S. on Feb 8, 2010
スポンサーサイト