Sponsored Link
スポンサーサイト
上記の広告は1ヶ月以上更新のないブログに表示されています。
新しい記事を書く事で広告が消せます。
Rice with Oysters / Japanese Food
JAPANESE TREND / Japanese Cooking (48) / Japanese Cooking (50)
Kakigohan (oyster rice) is the perfect dish for someone like me, as the rice absorbs maximum oyster flavour.
I can eat around the actual oysters and just enjoy their flavour in the rice.
It was, and it turned out wonderfully.
Rice with Oysters

(Rice with Oysters in donabe (clay pot))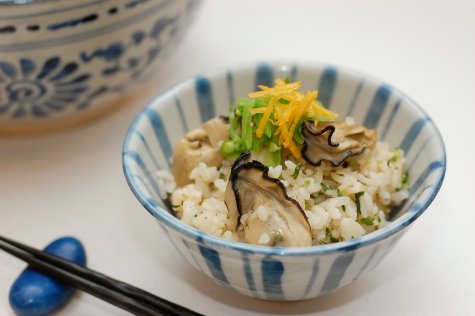 (Rice with Oyster / Image)
Ingredients (Serves 4)
* 1 cups rice
* 300g oysters
* 1/2 tbsp soy sauce
* 1 tsp ginger juice
* 1 tbsp light soy sauce
* 1/2 tbsp soy sauce
* 1 tbsp sake
* 2 cups /400ml dashi stock
1. Wash the rice and drain it in a strainer.
2. Wash the oysters carefully and wipe them well. Marinate them in the soy sauce and ginger juice.
3. Combine the light soy sauce, soy sauce and sake in a measuring cup, and pour the dashi until it comes up to the mark for 2 cups. Taste this and add the salt if necessary.
4. Put the rice in a pan and place the oysters on top. Add the sauce that the oysters have been marinated in and the dashi mixture.
5. Put the lid on and heat it on high. When it comes to a boil, turn the heat down to low and cook it for 12 minutes.
6. Turn off the heat. Let it stand for 10 minutes.
By J.S. on Nov 1, 2009
スポンサーサイト